Last Minute Gift Idea: adidas
*This post was sponsored and I used affiliate links below.
Offer: adidas Adistar for $39.99 + Free 2-day Shipping
Valid: 12/19-12/20
Code: ADISTAR
Link: Get the adidas Adistar for $39.99 + Free 2-day Shipping with Code ADISTAR
Restrictions: Only Adistar Racer Products
Holiday Shipping Deadlines*
*Orders must be placed by the dates and times listed below to receive packages on or before 12/24.Please note that these dates do not apply to custom shoes.
Shipping Service

Order Deadline

2-Day
12/20
Overnight
12/23 by

12pm EST
Order a Blurb Book for the Holidays!
Big news: Time is running short!
(sponsored post)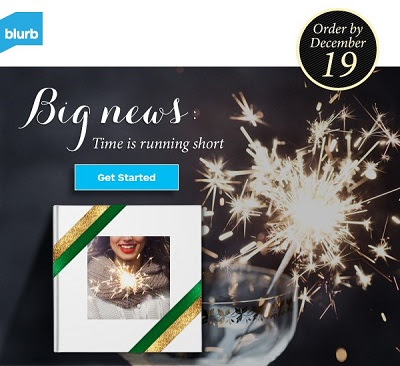 Big news: time is running short! But the good news is you can still get your book in time, even if you want an extra couple of days to work on it by choosing our Priority shipping option. A few dollars more will give you until December 19 with Express shipping—but don't leave it 'til the last minute. Your gift books are too good to rush!
Don't forget! Save 20% when you purchase two or more books (up to $150 in savings) through December 19th. Now's the perfect time to buy books atBlurb and save big!
Introducing The Honest Company
**This post contains affiliate links and I will be compensated if you make a purchase after clicking on my links.
Introducing The Honest Company
The Honest Company
is the modern family's trusted resource for unquestionably safe, effective, and beautiful non-toxic lifestyle goods. Their products range from diapers and childcare, bath and body, household cleaners, and health and wellness products – all made with safer and healthier ingredients. Customers can also save up to 40% by signing up for one of their convenient, completely customizable bundles where customers choose the products they need (and want) and decide how often they ship directly to their doorstep! All you have to do is Bundle & Save!
Big Savings Just in Time for the Holidays
(sponsored post)
If you were busy with the leftovers this weekend, that's okay. We've just added an extra promotion to make sure you can still save big on your gift books.
Save 30% off print book orders $175+ with code:BLURB30% or 25% off print book orders $150+ with code: LARGEGIFTS through 12/9. Now's the perfect time to create those gifts!
Christmas Cards and New Year's Cards at Tiny Prints:
Did you know that this Sunday is the busiest holiday card shopping day of the year? It's time to stock up on your holiday cards! I know that I am looking at the Happy 2015 cards. I know that I'll never get my act together in time to send Christmas cards, so this year I'm doing New Year's cards! They are SO cute and inspirational. Here are a few of my favorites:
It is…but you don't have to wait until Sunday to take advantage of an amazing offer from Tiny Prints.
For 24 hours only, you can get 40% off your order of ANY size plus get free shipping!
Here's how to take advantage of this offer:
1. Go to Tiny Prints and select from hundreds of holiday cards.
2. Personalize your card with your pictures, your text, etc.
3. When you checkout, use the promo code TPCARDS40FS to save 40% and get free shipping.
This promotion is only valid from 12:00pm PT on Saturday 12/6 to 12:00pm PT on Sunday 12/7, so act fast!
ONE DAY ONLY: Take an Extra 15% off adidas Supernova Glide and Response Boost Shoes
This post contains affiliate links.
Offer: Take an Extra 15% off adidas Supernova Glide and Response Boost Shoes
Valid: 11/25 only
Code: BOOST
Take an Extra 15% off adidas Supernova Glide and Response Boost with code BOOST. Valid 11/25 only.
Design your own adidas ZX FLUX Shoes
**The links in this post are affiliate links and I will receive a small commission if you make a purchase after clicking on my link.
Design your own adidas ZX FLUX Shoes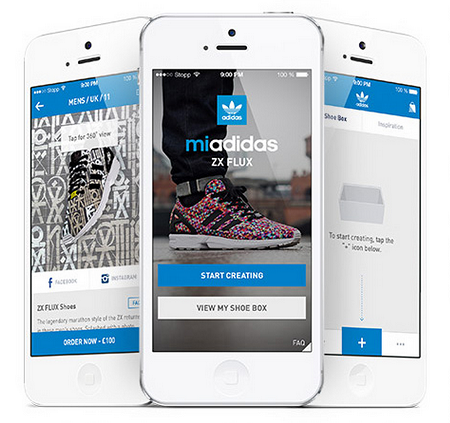 adidas has launched an innovative new app for Android and iPhone smartphone devices, called the#miZXFLUX app. The app allows you to easily apply your personal photographic image to one of adidas Originals most covetable silhouettes, the ZX FLUX. With the app, you can take a photograph, edit and rotate the photo, and apply it to your very own custom ZX FLUX shoes. You can make a statement that's all your own.
Here's some more info about the #miZXFLUX app:
Custom ZX Flux shoes created from the app are $110.
Delivery takes 3 – 4 weeks after submitting your order.
The app is only available for smartphone devices.
Certain photos (copyright, inappropriate/offensive material, very large/small file size) can't be used.
Get the #miZXFLUX app today and create your custom shoes.
Sweet Gift Making Inspiration From Paul Lowe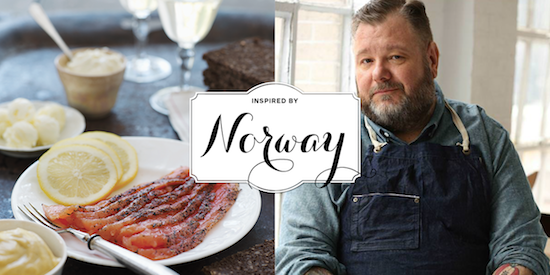 This fall, Blurb is highlighting makers all over the world. One of those people is Paul Lowe, creator of Sweet Paul magazine.
Sweet Paul magazine features spectacular food photography, scrumptious recipes, and inspired crafts. In Blurb's interview with Paul, he discusses his childhood in Norway and provides a delicious recipe. You'll love Paul's stories of gnomes, trees (and tree-related disasters), food, family, and memories. At the end of the interview, Blurb features great gift books reminiscent of Sweet Paul. Read the interview here.
Ready to start publishing your own book? Save 20% on photo books with code OCT20%, which is great news if you're planning to make a holiday gift. This deal endsOctober 31st.
Safety With Fireworks
Whether you use fireworks on the Fourth of July or you use them for a special event, like a birthday party or anniversary, there are some safety tips to keep in mind so that you are not harmed.
If you see that there are any fireworks that have damage, then don't use them. This includes fireworks that seem to have a frayed fuse or that might not have a stable base.
Never let children handle fireworks.
Don't hold fireworks in your hand once they are lit unless they are sparklers.
Keep a bucket of water close when you light the fireworks so that you can put out any fires that might happen.
Try not to light them while you are near trees or dry grass.
It's a good idea not to light fireworks near buildings or cars because the sparks can land on them, possibly causing a fire to start.
If you don't have a lot of experience using fireworks, then consider going to see a show instead of trying to light them at your home.
Items like colored fountain sparklers are some of the most popular items to light at home if you choose to put on a show for family and friends. These are usually small in size, but safety precautions should still be taken.
Make a Good First Impression at Your Next Party
Entertaining can be both stressful and enjoyable. As anyone who entertains often knows, it's not all about the food. In fact, with all of the convenience of deli and bakery options available along with easily accessible caterers, the food could be one of the easiest aspects of party planning. The first impression your guests have of your party is the appearance of the entertaining area. Before they ever catch a glimpse of the food, they'll be sizing up your decorating skills and forming an opinion of the event.
For many, the holiday season involves additional entertaining. Rushing out to purchase new furniture for your dining room may not be a feasible option for you. However, you don't want to bring your guest to a party table that is surrounded by unattractive, mundane or cheap looking chairs. You can transform ordinary, uninteresting folding chairs into elegant seats for your guests simply by adding chair covers. Silver or gold satin covers are a perfect way to add holiday elegance to your party table. For a more casual atmosphere, covers made of spandex would be quite appropriate.
When you're striving for a festive looking party table any time of the year, Rosette chair caps can help you achieve the festive atmosphere you desire. Add some balloons, colorful tablecloths and various other whimsical party elements and you'll have a table, a room and a party that will capture the attention and compliments of your guests.